She Leads and She Inspires
Aspiring for a representative movement in the Asia-Pacific region
The Open Mapping Hub Asia Pacific (the Hub) is committed to supporting the emergence and evolution of women leaders within the OSM ecosystem and beyond. Towards that commitment, the Hub launched She Leads and She Inspires, a training and professional development opportunity that aims to support women to become OSM community leaders, gaining skills in geospatial data and technologies, decision-making, digital leadership, needs identification, and team building.
The program was designed with, by, and for women in (or hoping to step into!) leadership roles within their communities.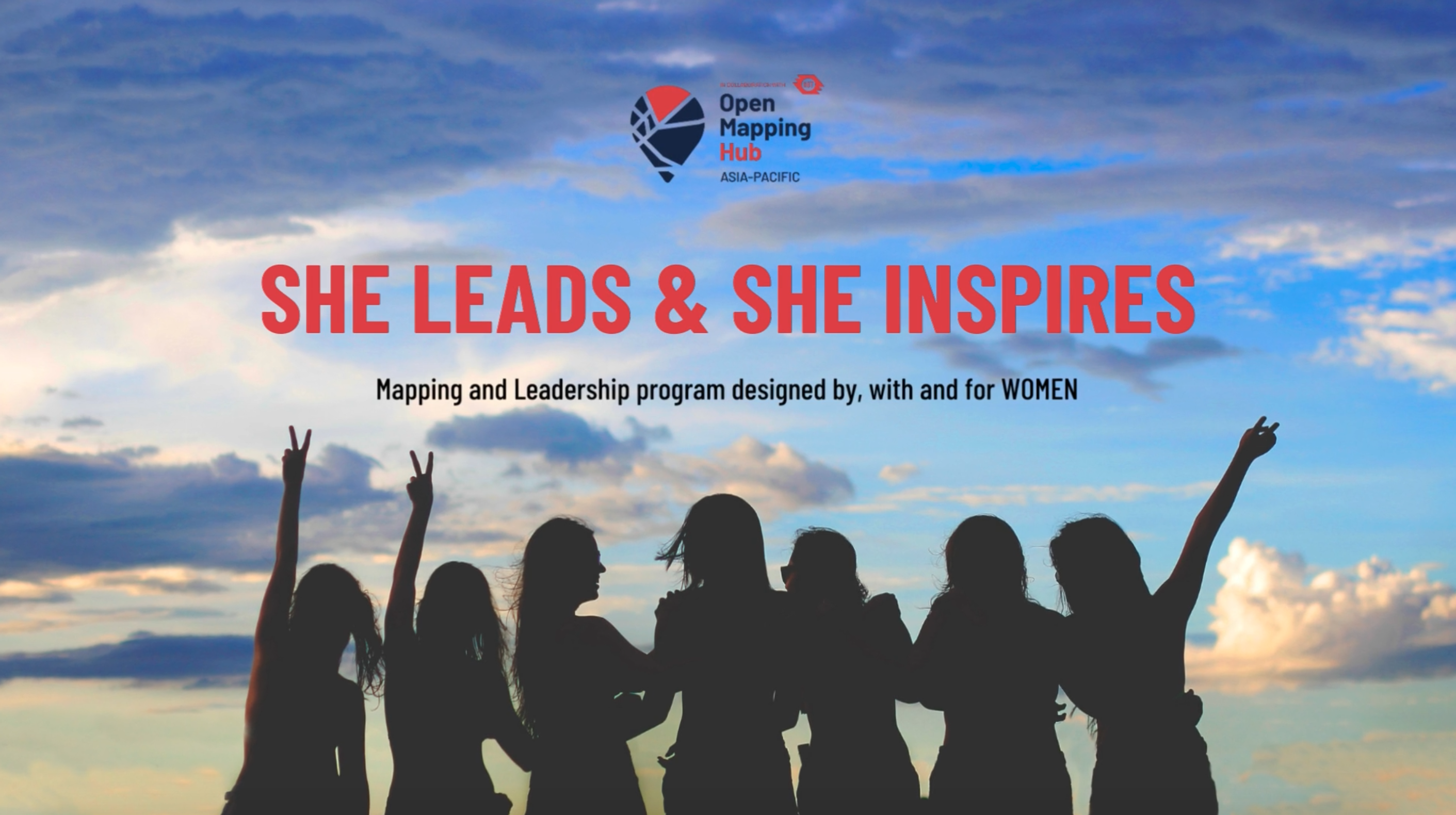 The program ran from December 2021 to June 2022 and was split into three core components: I) A 2-day intensive workshop where participants heard from experienced and inspiring women leaders from the geospatial ecosystem (18-19 December 2021) ii) Month-by-month learning topics that included interactive training and personal assignments (January - June 2022) iii) A group-led, co-created community-based project guided by a group mentor (July 2022- beyond)
What was included? Participants were led through a series of inspirational talks and training activities hosted by a range of geospatial professionals in leadership positions in the humanitarian sector, and beyond.
Participants in She Leads & She Inspire received training and mentorship in: i) Solutions-based leadership ii) Introduction to OpenStreetMap (OSM) and basic Geospatial Information Services (GIS) iii) Needs identification and informed decision making iv) Project & people management v) Communication and networking skills vi) Advanced GIS and remote sensing
MONTHLY JOURNEY Participants underwent four components each month. One for the peer-to-peer/mentor session, a special session with a trainer, and an opportunity to work together on their group community project.
TRAINING From January to June, participants took part in monthly training sessions. These sessions covered the following topics:
January: Building an inclusive team February: Identifying challenges March: Project planning for the impact April: Finding the voice of a leader May: Developing Solutions based leadership June: Turning Skills into action
Inspiring trainers from all over the world shared their insights and knowledge with participants on these topics. The participants had the opportunity to respond to a local challenge in collaboration with their peers. Together, with the mentors and the hub, they implemented evolving community-based projects to apply the new skills they learned.
MENTORSHIP All participants were assigned a mentor who supported them from January through to June. A mentor:
Supported participants through their participation in She Leads and She Inspires
Supported participants through their community-based project
Enabled focused conversation targeted at helping the group achieve their goals
Shared their experiences to give the mentees new perspectives
Empowered the mentee to find their own solutions and think freely
COMMUNITY-BASED PROJECT At the end of the program, participants were divided into groups of seven or eight. In these teams, participants were free to explore and apply the skills that they've learned during the program towards a community-based project.
The project evolution began with team building and challenge identification (January - February); progressed to solutions, project planning, and partnership building (March-May); and ended with the development of a proposal / white paper that communicates the potential impact of their work.
OUTCOMES Over the course of the six months, 99 women from 14 countries - Nepal, India, Philippines, Bangladesh, Bhutan, Tajikistan, Indonesia, Pakistan, Sri Lanka, Cambodia, Fiji, Kiribati, Vietnam, Papua New Guinea received training in the program supporting them to become OSM community leaders by gaining skills in geospatial data and technologies, decision making, digital leadership, needs identification and networking. Out of these 99 women, 74 successfully completed the program by submitting 37 community development proposals.
19 of these participants will be carrying out 10 projects in 10 countries as follows.
SELECTED PROJECTS
The projects address a range of local challenges related to Disaster Resilience, Environment, Gender Equality, Health, Heritage, Inclusion, and Sustainable Cities, adding value to local action in Asia Pacific